From mid October 1974, the university city of Cambridge was held in the grip of fear. A vicious sex attacker was at large, attacking the female students of the city. For eight months, a man dubbed "The Cambridge Rapist" avoided capture, and was finally caught not by detective work, but by chance.
The rapists reign of terror began on 18th October 1974. A young student was alone in the house that she shared on Springfield Road with four other students, and had just got out of the bath. She put on some music and began to get dried, but just as she began to do so the lights went out and the music stopped. The terrified young woman then heard the sound of footsteps on the floorboards outside her room, and the sound of a key being inserted into the lock. Suddenly, a stocky man burst through the door and roughly pushed her to the floor. He tied her wrists together with a blouse from the young woman's wardrobe and then said to her chillingly:
"I came to rob you, but I think I'll rape you instead"
The young woman was then savagely raped. After robbing her of £12 from her purse, the rapist fled.
Less than two weeks later, in nearby Abbey Road, the rapist struck again in an almost carbon copy attack. Another young woman was laying in the bath, alone at home, when the lights suddenly went out. As she got out of the bath and went to the top of the stairs to call out, she heard someone running up the stairs and was overpowered by a short, stocky man. He forced an ether soaked pad over her face, and pushed her into the bedroom. Tying her hands behind her back with a pair of tights, she was then brutally raped. When she cried out that the man was hurting her, the rapist replied "That's good, that's good". He then fled, leaving the weeping woman bruised and shaken.
Police investigating the first attack now realised they were looking for a serial rapist.
A bizarre incident then occurred on the 11th November 1974, in a house on Huntingdon Road. Another young woman was alone ironing in her shared house when she heard what sounded like somebody climbing over the back garden fence. There was nobody there when she looked out, so she thought nothing of it. About 30 minutes later, the front doorbell rang, and when she went to answer it, she was confronted with a strange sight. A man was stood at the door, with a scarf around the lower part of his face and wearing a long blonde wig. He was wearing a black leather jacket, but was otherwise naked. He lunged at her through the door, but this time he was fought off. After being kicked and hit with the iron the woman had been using, the man fled in pain. It was clear that the woman was the intended third victim.
Just two days later, the rapist struck again, more viciously and terrifying than before.
A young music student was in one of the soundproofed music rooms of Homerton Ladies College in Cambridge, when the now familiar signature of the power being cut occurred. In the frightening silent blackness, the young woman was grabbed and a pad soaked in ether was placed across her nose and mouth. The frightened girl struggled and screamed, and was told that she was going to be murdered. Placing a sack over her head, she was dragged out of the block of music rooms and across a field to a shed, where she was repeatedly raped. During her ordeal, she heard the following:
"I am not a murderer. I am the Cambridge Rapist"
Three and a half weeks later, the rapist struck again. On the 8th December 1974, a 21 year old student was asleep in bed in her house on Owlstone Road, when she was woken by a bright light being shined in her eyes. She was dragged roughly from her bed and taken down stairs and outside, where she was pushed onto the lawn and tied up with a pair of tights taken from the washing line. But this attack yielded two important bits of information that would prove to be ultimately accurate about the rapist. As she was being raped, the rapist used the victim's boyfriends name. Was he researching his victims? The student also said that when the rapist had fled, there was no sound of a car being driven away, but she had heard what sounded like a bicycle being ridden away.
One week later, the rapist committed rape for the fifth time, and returned to the scene of his third attack, the house in Huntingdon Road. A 21 year old woman in an upstairs flat was awoken in the now signature method; an ether soaked pad was placed over her nose and mouth and a torch shone in her eyes. More savagely this time, after being tied up and raped, the woman had her body slashed by the attacker. The wound required twenty stitches.
By this time, the hunt for the rapist had become one of the biggest in British criminal history. Hundreds of officers were involved in looking for a man that they knew very little about, and only had a vague description of. About five feet tall, young, stocky, possibly bearded. They knew that the rapist talked to his victims during the assaults, and that his voice sounded local. They knew that they were probably looking for a local man, possibly an experienced burglar. At nights, more than a hundred plainclothes detectives roamed Cambridge streets, looking for anyone acting furtively. And the scope of potential victims was massive.  Cambridge is a massively populated university town, with thousands of female students living in halls of residence, bedsits and shared houses. Any of them could be the rapists next victim. The police had forensic evidence from the rapist – semen swabbed from his victims that revealed his blood group as an O secretor. It also revealed that the man they were looking for was sterile. Police invited all men over five feet in height from Cambridge and nearby Newmarket to come and give saliva samples to eliminate themselves, and 1,644 did – but the rapist was not found. Perhaps the hunt had gotten too close, because suddenly, the attacks stopped.
During the next couple of months graffiti began to appear on walls near to the scene of the attacks. Chillingly, it said "The rapist is back". And there were a few reports from women who had discovered frightening messages written on their windows in pink lipstick, saying "Sleep tight – The Rapist". But there were no more reports of attacks.
But on the 13th April 1975, the Cambridge Rapist returned with a vengeance.
That night, a young woman alone in a house in a street close to the scene of the previous attacks heard a key being tried in her door lock. Because of the attacks the previous year, the woman had had a security chain fitted to the door – and this held. But the power to her house had been cut – and there was no telephone to call for help. The petrified woman got into bed and about twenty minutes later noticed a torch beam appear at her bedroom window. Suddenly, she heard the terrifying sound of the front door crashing open as the attacker threw himself at it, breaking the chain. She heard the sound of someone running upstairs, and in the dark she was restrained as per what was now the chilling signature. But this time, there was added terror.
When the woman's eyes adjusted to the eerie half light, she saw a terrifying sight. Before her stood a man dressed completely in black leather. He wore a hideous, terrifying leather mask a zip across the mouth and two eye slits. Across the forehead was painted the word "RAPIST". From underneath the mask the woman could make out a straggly beard. Before she was horrifically attacked, the attacker pulled back the mouth zip and said to the woman:
"Do you know who I am? I am the Cambridge Rapist".
The police now obviously feared that the rapist would go on to kill someone. He had changed tactics and become bolder and more violent. All the police could do was intensify the hunt – more patrols, more enquiries, more investigations. But the rapist remained at large.
The 6th of May 1975 brought another attack – this time in broad daylight. A young female student on her lunch break had returned home to collect some notes when she was attacked in her own home by the masked rapist. He threatened her with a knife and actually stabbed her in the stomach, then forced himself upon her and raped her. As he had done in previous attacks, the rapist displayed some knowledge of his victim, using her boyfriend's name during the assault. He then left the traumatised woman bleeding on her living room floor and fled.
The rapist's reign of terror came to an end in the early hours of Sunday 8th June 1975. A 28 year old Canadian exchange student asleep in bed in Owlstone Croft Hostel was awakened by footsteps in the corridor outside her room. When she opened the door to see who was there, the rapist lunged at her but her screams disturbed him and he fled. Two anglers night fishing on the nearby River Cam heard the woman's screams and ran towards the hostel, one of them contacting the police. An urgent radio message contacted every undercover unit who were still patrolling the streets searching for the rapist, telling them to stop everything or anything that moved. This was their best chance of catching the man who had brought fear to Cambridge.
In nearby Selwyn Road, Detective Constable Terry Edwards had just received the radio message at 2:35 am when he heard the sound of a bicycle coming towards him. He looked up and saw a woman with long brown hair pedalling swiftly towards him. The bike was an ancient ladies model with a front basket, and was being ridden in an erratic manner. It had several shopping bags slung from the handlebars, and was being ridden with no lights even though it was pitch black. DC Edwards challenged the cyclist to stop, but she swerved around him and carried on pedalling. As DC Edwards made a grab for the woman's hair, it came off in his hand. The cyclist crashed to the ground, unbalanced by the lunge. Accompanied by local residents who had come out to see what all the fuss was about, DC Edwards ran over to where the figure lay, and restrained her. The prone figure wore a red coat and a pleated skirt, and underneath these revealed a short, stocky man with close cropped hair. He was arrested, and along with the items in the carrier bags and the wig, was taken to the nearest police station and locked in a cell. It was only when police searched the carrier bags that they realised that they had just caught the Cambridge Rapist. His reign of terror was over.
In one of the bags, police found a jemmy, a torch, a knife, a home-made device for fusing lights, assorted housebreaking equipment, a bottle of Ether and a cloth pad. The other revealed a black leather jacket and trousers, women's lipstick, and the hideous "RAPIST" mask.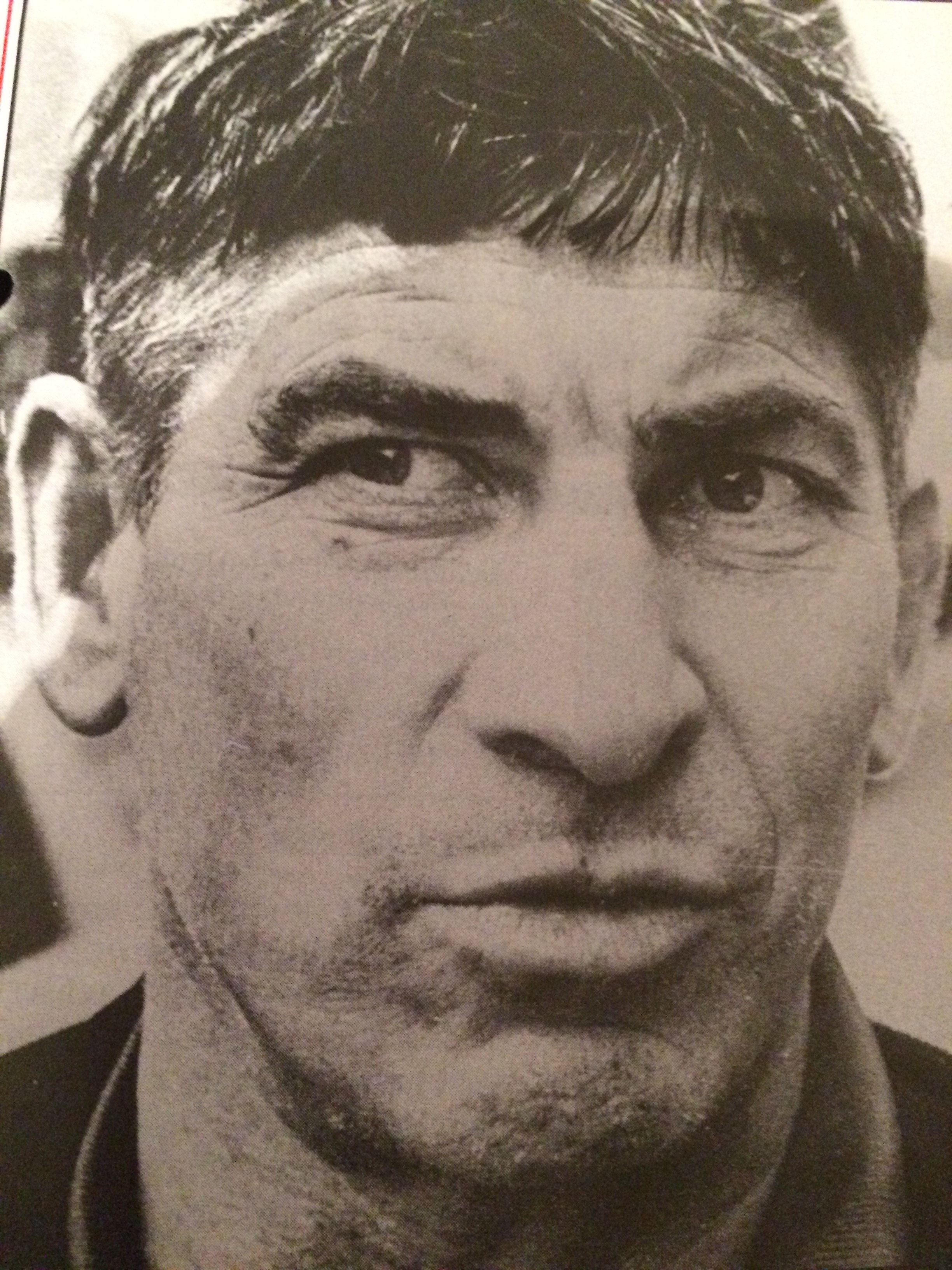 The rapist was revealed to be 47 year old delivery driver and part time handyman Peter Samuel Cook. Cook had a long history of being in trouble with the police, and had a large number of convictions, usually for theft or burglary. In the 1960's, he had spent much time in prison as well as serving time in Broadmoor Secure Hospital. He was known as a serial absconder and had escaped from many approved schools, borstals and prisons. However, he had married in 1968 and since then had seemingly kept his nose clean. He and his wife lived in a caravan in the village of Hardwick, about five miles from the heart of the rapist's hunting ground of Cambridge. Cook had actually been questioned early on in the hunt for the rapist, as he had a criminal record and was of similar height to the rapist's description. He managed to provide convincing alibis for the times of the attacks, and although he had no history of any sexual offences, police did notice that Cook had a large quantity of hardcore pornography in his home. When he had been questioned early on in the manhunt, Cook had refused to give a saliva sample, claiming an infringement of his civil liberties. He also claimed to not match the description given by victims, and the police had no evidence to pursue him as a suspect any further.
After his arrest, Cook quickly admitted being the Cambridge Rapist in light of the wealth of evidence against him. He gave no explanation to detectives as to why he had gravitated to being a sex attacker, saying only:
"I came to rob, but decided to rape instead" – Peter Cook
Detectives learned just how cunning the Cook was, and why he was so difficult to capture. The hooded "RAPIST" mask had false hair glued to the inside of it, to give the impression that the rapist was long haired and bearded. Cook was clean shaven and had a short, crew cut hairstyle. He would travel to and from the scene of the attacks disguised as a woman, then dress into his chilling rapist attire once near the scene. Detectives surmised that he had passed them on a number of occasions, unnoticed because he was dismissed as a female cyclist in a city where bicycles outnumbered cars three to one at that time.
A search of Cook's caravan and his father's nearby workshop revealed a large collection of women's clothing that Cook had stolen from his many burglaries. There was also a large collection of long haired wigs, and whilst searching a workbench police found hidden inside 87 sets of keys that he had had copied of the doors to several women's hostels, along with notebooks detailing the movements of at least two of the victims. Cook had simply picked a female at random, and stalked them for a period of time, which explained how he was able to always choose a house where there was a lone female. His job as a delivery driver gave him ample opportunity to watch bedsits and learn the movements of female students. By learning their movements, Cook had often broken in to their bedsits or flats when they were out, and stolen underwear and items of personal mail. This was also how he came to know intimate details of their lives, such as their boyfriends names. This meticulous planning made him bolder, and police were in no doubt that he would have killed a victim sooner rather than later if he hadn't been stopped.
Peter Samuel Cook appeared at Norwich Crown Court on 3rd October 1975, charged with seven rapes and two woundings. He pleaded guilty to all the charges against him, and received two life sentences. The judge, Mr Justice Melford Stevenson, told Cook whilst passing sentencing:
"In your case, I am recommending that life in prison means exactly that" – Mr Justice Melford Stevenson
Apart from the obvious lasting effect on his victims, the name Peter Samuel Cook and the case of the Cambridge Rapist is largely forgotten by the British public. The only time his name resurfaced was in 1995, when moves were made to have Cook released either on parole or moved to open prison conditions. Cambridge MP Anne Campbell, a Cambridgeshire woman who had lived in the city throughout Cook's reign of terror, was quick to object to and oppose these moves in Parliament. She described firsthand the fear that Cambridge was held in by Cook's actions, claimed that Cook was still a massive danger to the public, and he remained as a Category A prisoner until his death. The following year, he applied for permission to receive a sex change, hoping that a new gender would increase his chances of release. This was denied, and Cook seemingly accepted that he would spend the remainder of his life in prison. Cook himself died in HMP Winchester on 09 January 2004, aged 75. He had served nearly 30 years for his horrific crimes, and had never expressed any remorse for his crimes, nor offered any explanation.
A macabre postscript to the story of the Cambridge Rapist, is that for many years, a t-shirt depicting the chilling leather hood worn by Cook was a very popular design and was worn by many in the punk era. Despite the uproar and controversy of the t shirt, it remained a very popular seller for many years.
The True Crime Enthusiast