The end of November is usually a time that families are excited and happy, beginning to prepare for Christmas. For the Hales family from Ipswich, in Suffolk, the end of November brings with it a tragic anniversary for them. 23 years ago, in 1993, 21 year old Karen Hales, was brutally murdered in the most horrific set of circumstances. Whoever responsible has never been found, leaving the Hales family still grieving the loss of a beloved daughter, partner and doting mother at the hands of a cold hearted, callous killer.
Karen Hales had so much to look forward to in life. She came from a doting family that she was very close to, and was engaged to a man that she loved and who cherished her back, her fiancée Peter Ruffles. Peter worked as a mechanic at a local bus depot, and Karen was employed part time at Boots in Ipswich. The couple had been together for six years, since their schooldays, and lived together along with their 18 month old daughter, Emily, in a two bedroom house on Lavenham Road, Ipswich. They were looking forward to getting married, and were a popular and well liked couple.
Sunday 21 November 1993 was a normal Sunday for the family. They had spent the early part of the day visiting Peter's family, and come the late afternoon Peter started getting ready for his evening shift at the bus depot. This was only a short distance from where the couple lived. Usually, Karen would see her parents on a weekend, but when Peter offered to drop her and Emily around at their house, Karen declined. It had snowed heavily that weekend, and not wanting to go out in the cold, Karen had planned to spend the day catching up on cleaning the house. As they had done many times before, Karen and Emily waved Peter off to work as he left their house at about 3:50pm, before he started his shift at 4:00pm. Just a regular Sunday.
What happened in the next 50 minutes is the stuff of nightmares. The exact sequence of events have never been ascertained, but what is known is that the lives of Emily, Peter and the Hales family were changed forever.
Peter had only been at work for a short time, when he received a visit from Karen's parents, Graham and Geraldine Hales. They had called in whilst passing to see Peter to ask if he could have a look at a fault they had with their car, to which he agreed to do so. They enquired after Karen and Emily, to which Peter said they were having the afternoon at home, catching up with the housework. Telling Peter that they would call in to visit the girls at home, Graham and Geraldine bid him farewell and left.
They arrived at Karen's house at 4:40pm, just 50 minutes after Peter had waved to Karen and Emily as he left for work. There was no answer when they knocked, and upon trying the door handle they found that unusually, the door was unlocked. Karen was very security conscious, and as at 4:40pm it was dark, this was especially out of the norm. More alarming was the overpowering smell of smoke that greeted Graham and Geraldine as they entered, and as they moved into the house they discovered a sight that will remain with them until their last day on earth.
They discovered the burning body of their daughter in the kitchen. A post mortem later was to determine that Karen had been stabbed multiple times, and then her body had been set on fire. Most disturbingly, the killer had shown no regard for 18 month old Emily – who had almost certainly witnessed her mother being brutally murdered, and who had been left in the same room as Karen's burning body. Fortunately, she was unharmed, but if Graham and Geraldine had not called when they did, this would have been a double murder.
"This was an absolutely horrendous crime, not least because Karen was callously killed in the presence of her 18 month old daughter and because her parents were left to discover her body in truly horrific circumstances." – Detective Superintendent Andy Smith (leading the hunt for Karen's killer)
Immediately, police launched one of the largest investigations in the history of Suffolk Constabulary. A team consisting of nearly 50 officers conducted house to house enquiries in the surrounding neighbourhood, and carried out a detailed fingertip search and forensic examination of the house and gardens. A major publicity campaign was launched, passing motorists were questioned in the event that they might have seen something, and witness statements were taken from people living in the immediate vicinity. Karen's background and relationships with family, friends and work colleagues were looked at to establish if anyone had any possible motive for meaning her harm.
They found nothing. There was no forensic evidence left by her killer, and no clear motive for Karen to have been murdered – she was well liked and highly regarded by all that knew her. She was not involved in anything illegal or illicit. She had not been sexually assaulted, and hardly anything had been taken from the house, although Karen's purse containing a small amount of money was missing. Also missing from a block in the kitchen were two Laser 7 kitchen knives. Were these the murder weapons? Neither the purse nor the knives have ever been found. Peter was cleared as a suspect very early in the investigation, as were the couple's family and friends. Nearly 1500 lines of enquiry were followed up by police, but Karen's killer eluded them. Police still believe that Karen possibly knew her killer, as there were no signs of forced entry to the house, and no footprints in the snow at the rear of the house.
When four months had passed with no results, the case was featured on Crimewatch UK. The reconstruction is reproduced here:
Crimewatch UK Reconstruction March 1994 – Karen Hales murder
The reconstruction into Karen's murder raises a couple of points. The night before she was murdered, Karen and Emily were alone at home as Peter had gone to a local pub with workmates. Karen heard a sound outside, and when she approached the front door (which was securely locked) she was alarmed to see the door handle being tried several times. She was too frightened to call out or look through the window to see who it was. As there had been a spate of burglaries in the area in the past few weeks, was this the latest in the line and Karen and Peter's house had been chosen at random? Or had someone targeted Karen specifically and, failing to get her that Saturday night, came back the following day?
Police also had collated several sightings of a man that they wished to eliminate from the enquiry, who has never to this day been traced or has come forward. Described as being aged between 20 to 30 years old, of slim build and about 5″10 tall, this man was seen by several witnesses on the day of the murder – crucially within the time window that Karen is known to have been murdered. It is likely the same man each time because each of the witnesses described the distinct blue/grey parka with a fur lined hood that the man was wearing. He was first spotted by two men who walked past him at the bottom of Lavenham Road at about 4:30pm. The man then walked out into the nearby main London Road and drew attention to himself by running across the road, causing a couple who were driving past to narrowly miss him. They provided the below photo fit: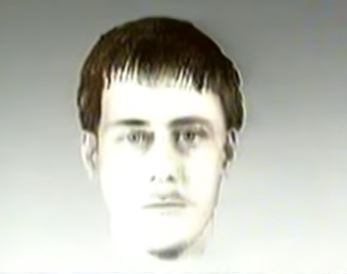 The man was also seen at about the same time that Karen's parents discovered her body. Crucially, this was in Chantry Park, which is about 400 yards from Karen's house. Again he drew attention to himself. A woman walking her dog there at this time remembers a man, again wearing a fur lined parka coat, running strangely as though doubled over. He stopped to stare at her, before running off again and disappearing into the park. Who was this man?
Following the massive appeal, the enquiry has wound down. Two men were arrested in connection with Karen's murder early in 1994, but both were released without charge. Suffolk Constabulary are keen to stress that the enquiry has never been closed, indeed, is periodically reviewed. Karen's murder has been re-appealed several times over the years by them, and by Karen's family. The Evening Star newspaper offered a £50,000 reward for information leading to the arrest of Karen's killer in 2005 – but this has never been claimed. Throughout these appeals, the pain of Karen's killer still never having been found is apparent on all, perhaps put best by her daughter, Emily.
"Please come forward. I beg you. It would be closure for me and my family. It will not bring mum back, but at least someone would be going to pay for what they have done and it would certainly make us feel a lot better. If we were to know who did it, it would bring closure. I think about her every day. It's hard. I don't feel like I have had a normal family life. Although I was young, you have this picture in your mind of someone hurting your mum. When it gets to the time when it would have happened you think 'this is when it happened'" – Karen's daughter Emily.
This is a truly horrific crime, which does indeed raise more questions than provides answers. What then, can be said about the killer? Firstly, it is near impossible to ascertain any kind of physical description of the killer, although I believe it to be a male. It is a sad statistic that women are predominantly killed by men. It is probable that the man in the parka had some level of involvement – this was a massively publically appealed crime and anyone having nothing to hide would surely have come forward and eliminated themselves from the enquiry. Why then did this man not? In the absence of any suspects, the photo-fit of this man is all that is available to form any picture of a possible suspect. However, this is a double edged sword because it cannot be determined definitely if this man was involved, so to place too much emphasis on this being the face of the killer may lead away from the real killer. Also, the photo-fit is now 23 years old. People age and faces change with aging.
I believe that the killer was either from or was very familiar with the local area. It has been shown that offenders operate within an area that they are geographically familiar with. Karen and Peter's house is part of a large sprawling housing estate, an unlikely place to have chosen for a random burglary. But a different story for someone familiar with access and egress from the estate. Was he then known to Karen? Police considered seriously the possibility that she knew her killer, due to the fact that there was no sign of forced entry to the house. Karen was security conscious and would always have looked through the window to see who was at the door before answering – surely even more so after having been frightened by someone attempting entry to the house the night before? It is unlikely that she would have willingly answered the door to a stranger – leaving a couple of possibilities. Perhaps whoever was at the door was known to her, or posed as an authority figure to gain access? Once the killer was inside however, Karen was murdered horrifically and cowardly in a short space of time. And these actions display a lot about the killer's psyche.
I believe the killer is, or was, a high functioning psychopath. Someone who could appear normal, but with little or no regard for human life except self preservation. What other type of person could murder someone, then start a fire and leave an 18 month old child in a house to die? This man was organized – he managed to gain access to Karen's house and committed the murder in what must have been a short period of time without being seen or heard. He was not seen leaving and left no forensic evidence at the scene. The missing knives are likely the ones to have been used to murder Karen – the type of knives were commonplace and practically worthless. They have never been found, so the possibility exists that they were kept as some form of trophy. But equally, they could have been disposed of anywhere, and were likely taken because they contained forensic traces of the killer. Removal of forensic traces is possibly also the reason why Karen's body was set on fire after death. Perhaps the killer was himself injured in the act? Setting fire to Karen would destroy any bloodstaining, or DNA that the killer may have possibly left – this seems the only reason to possibly do this. If the aim was to leave nobody alive, then an 18 month old toddler would not have been able to fight off a killer. It is not known if an accelerant was used or not to start the fire – did the killer bring it with him and then take this away after the act?
There is the possibility that the killer is now himself dead of course, or in prison or hospital for some reason. If this man is still alive, I believe that he would now be middle aged. I do not believe that Karen's murder was his first offence, and I believe that this man will have come to the attention of police or local medical authorities before or after the crime. I also believe that someone has lived with knowledge or suspicion of who this killer was for many years, perhaps remembering someone coming home heavily bloodstained for example – which Karen's killer would have been? Or a friend or relative of the killer noticing a change in someone's behaviour after the murder and having the seeds of suspicion sown? This is a strong possibility – the crime was very widely publicised and remains notorious, and someone must know or at least suspect someone of being the killer. But with the absence of any suspects or forensic evidence, it sadly appears that the killer of Karen Hales will evade justice, barring a deathbed confession, or the burden of guilt becoming too much for someone to bear. Neither the Hales family, Peter, Emily or Karen deserve that.
Anyone with any information in relation to Karen Hales' murder can contact the Joint Norfolk and Suffolk major Investigation Team on 101, or Crimestoppers on 0800 555 111.
The True Crime Enthusiast