David Lashley had been born on September 30th 1939 in St Lawrence, Barbados. He had left school aged 13 in 1953 and went into apprenticeship as a car sprayer, before transferring to the London factory of the Rootes company that he worked for. Lashley boarded with an aunt who lived in Southall, West London, before meeting a pregnant 19 year old girl called Jean in the early 1960's. By all accounts, Lashley was a law abiding citizen and was devoted to Jean, and the couple set up home together soon after the birth of her son. But by 1962, the couple had had a daughter, Sandra, and Lashley began to change. He once beat Jean so badly she suffered three broken ribs. Yet he begged her forgiveness, and as a result, the couple got married. A son followed shortly after, and from this point onwards Lashley began to be violent once again. He was obsessive about Jean's past, and was convinced wrongly of her constant infidelity. His sexual demands became brutal and more frequent, but were unaccompanied with love and tenderness. Beating after beating followed, with Jean being clubbed unconscious with a chair on one occasion.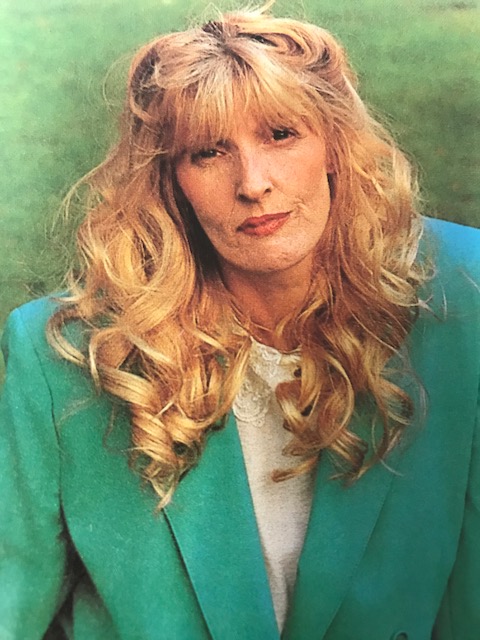 By 1965, Jean was so frightened for the safety of her children that she placed her illegitimate son into the National Children's Home, as Lashley had grown to despise the boy. The turning point finally came later that year when Jean became pregnant once more and Lashley dragged her to a backstreet abortionist, who was to bungle the operation. The baby died nine days later, and Lashley ignored the funeral. Jean despised him from that moment onwards, and was largely shocked but relieved when Lashley was arrested and imprisoned for the "Beast of Shepherd's Bush" attacks – never thinking for a second that he was the rapist in all the tabloids. For years she thought that she had triggered some sort of hatred for blonde, white women in him because like his victims, she was a blonde white woman. Jean divorced him whilst he was in prison and moved away, only enflaming Lashley's already seething hatred of white women.
Lashley had never been flagged up as a suspect in the July 1976 Chesterton Street attack as there was no record of him having a scar on his cheek, but DCS Mooney felt sure that he had the right man. The attack, and Janie's abduction, all bore the M.O of the "Beast of Shepherd's Bush" too strongly, plus Lashley knew the area and lived nearby, and was powerfully built, having spent his previous prison sentence bodybuilding. Officers were assigned to keep surveillance on David Lashley, and they soon reported back that Lashley did, after all, have a scar on his cheek – received from a fight in prison during the sentence he served for the "Beast of Shepherd's Bush" rapes. Lashley was picked up on 17th February 1977 for questioning about the Chesterton Street attack, and Janie Shepherd's disappearance.
Lashley was to strongly deny involvement in both crimes, although according to DCS Mooney, Lashley was to confess almost immediately to the July 1976 attack. Lashley himself was to deny that he had. He was placed on an identity parade, where the victim from the Chesterton Street attack picked him out immediately and unequivocally. This was enough for police to charge Lashley with rape and an account of attempted murder, and he was remanded in custody to Brixton prison. Whilst he was in custody, detectives investigating the disappearance of Janie Shepherd were to question him about her disappearance. Lashley claimed to know nothing about Janie's disappearance and offered an alibi for the night that she disappeared. Lashley claimed that on Friday 4th February, he had travelled to Leicestershire with a female friend, not returning to London until the early evening. He claimed that at 5:30pm he had been doing a respray job on a car in the paint-shop that he was employed at, and that he had returned home at about 7:00pm to watch television. Finally, he had gone to bed at about 9:30pm that evening. Lashley's female companion and friends corroborated part of this story, but no one was able to confirm that Lashley was in bed when he said that he was.
Meanwhile, while Lashley was on remand awaiting trial for the Chesterton Road attack, the search for Janie continued. The Darlings continued their daily searches throughout the remote countryside of the surrounding counties, and on three consecutive Friday evenings, investigating officers staged a reconstruction of Janie's last known movements. A policewoman, similar in look and stance to Janie and wearing identical clothes, re-enacted her last known movements. The purpose of these reconstructions was an attempt to trigger a memory of someone – people are creatures of habit and weekly pay was more commonplace in 1977 than nowadays. As the end of the normal working week was a Friday, then it stood to reason that a lot of shoppers may visit their regular supermarket at this time, having been paid, and if so, there may be someone who had noticed someone loitering around, or had seen Janie talking to someone who had not yet been traced. It brought nothing.
By mid-April 1977, Janie had been missing for ten weeks. Her heartbroken parents, as well as Roddy Kincaid-Weeks and Janie's cousins and friends, had searched fruitlessly for her alongside investigating police. They had developed a good relationship with DCS Mooney and his team, who had sensitively included them in as much of the investigation as he operationally could and had been honest with them in his opinions. Angela and John Darling left to return to Australia on 12th April 1977, convinced that Janie was dead, having been raped and murdered.
It was just six days later, on Monday 18th April 1977, that their convictions were tragically proved correct.
Nomansland Common stands just off the B651 road from St Albans to Wheathampstead in Hertfordshire. The area is popular with dog walkers, off road motorcyclists and model aircraft enthusiasts, and is known to locals more commonly by the ominous name of "Devil's Dyke". On the 18th April 1977, two schoolboys, Neil Gardiner and Dean James, were taking advantage of the bright and clear weather that day. It was the start of the Easter holidays from school, and the two boys were cycling around the area, racing each other and enjoying scrambling about. All of a sudden, the boys noticed what they thought was a pile of rags, but a closer inspection petrified them and caused them to drop their bikes and flee. When they composed themselves enough, they retrieved their bikes and sped home. It was early evening when Dean James finally mustered up the courage to tell his father that he was convinced he had seen a real dead body whilst cycling that afternoon. Peter James was convinced that his son was no liar, and contacted police. Police who questioned both boys were also convinced that they were sincere, and this was not a prank of any kind. Accompanied by their fathers, the boys took police to the spot where they had seen the "body". One look by accompanying police was enough to confirm the boys were telling the truth.
The body was badly decomposed, and was found fully clothed. It was clothed in jeans, striped socks and a black sweater with bright red polo neck and vivid green cuffs. Gold rings still encased three of the body's fingers, and around its neck, a thin chain complete with "Woodstock" charm was found.  Suspecting that the body could be the high profile missing Australian girl, as procedure the area was cordoned off and Detective Chief Superintendent Ronald Harvey, head of the Hertfordshire CID was summoned. Preliminary tests were performed, whilst awaiting the arrival of Home Office pathologist Professor James Cameron, and Dr Bernard Sims, a forensic dentist, before the body was removed to St Albans mortuary. DCS Mooney was also contacted, getting the call he long suspected but ever dreaded. Professor Cameron and Dr Sims began a four hour autopsy at 11:15pm that evening, and recorded ligature marks to the feet and upper arms of the body. There was extensive bruising to the upper arms and torso, the left foot, the right thigh and shin, and extensive bruising to the left temple area, although no evidence of a fracture. There were also what may have been finger nail marks to both breasts. Due to the advanced state of decomposition, it was impossible to determine whether a  sexual assault had taken place. The lungs and heart showed evidence of suffocation, coupled with extensive bruising and crushing to the throat. This enabled Professor Cameron to conclude that cause of death was due to strangulation. By the end of the autopsy, Dr Sims had been able to sadly confirm through dental records that the 11 week hunt for Janie Shepherd had come to an end. Tragically, her body had been found a mere three miles from an area searched by Angela and John Darling some weeks previously.
An inquest opened in St Albans on 22 April 1977, but was adjourned pending further tests on both the body and Janie's car. Following these, the inquest was re-opened on 24 October 1977 before a jury, where a verdict of murder by person or persons unknown was returned. That same afternoon, Janie's remains were cremated in a private ceremony at Garston Crematorium, Watford, attended by Angela and John Darling, Roddy Kincaid-Weeks, and a small number of Janie's close friends.
Of course, long before this – before even Janie's body had been found, the man who police were convinced was her killer was already behind bars. David Lashley had been convicted at trial of the charges in the 1976 Chesterton Street attack, and had been sentenced to serve eighteen years in prison. Although a dangerous predator was off the streets, it needled Mooney and his team that their prime suspect had not also faced trial for Janie's murder. There was no evidence, physical or forensic evidence to tie Lashley to Janie's murder, but Mooney was convinced that he was the man responsible, so much so that Mooney shared his suspicions with John and Angela Darling, and made a promise to them that he would one day bring Janie's killer to justice. He kept in regular touch with the couple for years, even long after his own retirement.
During his imprisonment for the Chesterton Street attack, Lashley had caused no trouble for the authorities over the years, instead spending his time honing his powerful physique in the prison gym. Lashley could, and regularly did, power lift 700 pounds. As a result of being a "model prisoner", Lashley had earned remission enough for him to be aware that he could be due for release by February 1989. However, by June 1988, and perhaps aware of this fact, Angela Darling had written to the Home Office requesting any fresh information about the now long unsolved murder. It spurred the Home Office to react, and Hertfordshire Police were subsequently served with a recommendation for a cold case review of the Janie Shepherd murder.
A review of every witness statement made in the 1977 investigation was undertaken, and witness who had made them were re-traced and re-interviewed. All agreed to testify in court should the need arise. When the review began, note was taken of Detective Chief Superintendent Mooney's suspicions about the identity of Janie's killer, and a serious look was taken at Lashley as the prime suspect. In June 1988 he was still a Category A prisoner, and detectives travelled to Frankland Prison in Durham to talk to prison staff whilst researching Lashley's character. This visit was to be crucial in the case. Prison staff had made a written record of several conversations that Lashley had had with other prisoners, and the consistent theme throughout all of these – recorded over a number of years – was of his hatred for the police, and for white women. The extent of this hatred can be summed up in a remark Lashley had once said to another prisoner, when the pair were talking about being released:
"When I get out, there are two things I am going to do. First, I am going to get even with the police. Then, I am going to go on a rape and murder campaign against females. If you think Hungerford was bad, just wait and see when I'm free"
Top of his list was Detective Chief Superintendent Mooney and his family, who Lashley had promised to despatch with a machete.
Justice came for Lashley in an unusual way, as he was delivered to the police by another criminal serving time in prison. It testifies to the horrific character of David Lashley that a prisoner was prepared to "grass" on another to keep him from wreaking the havoc he so wanted to. Daniel Reece was a prisoner serving a long sentence for a variety of sexual and theft offences, and had worked with Lashley in the sawmill of a prison they were serving time in together. The two men had a shared interest in bodybuilding, and spent hours training together. Whilst reading a newspaper article about a black male who had received a long sentence for rape, Lashley had said to Reece:
"He should have killed her. If I had killed that bitch who put me in here like I did the other, I wouldn't be here now"
In detail that was unknown to anybody except police and Janie's killer himself, Lashley went on to describe the events of the night of Janie's murder. He claimed to have watched "a nice looking blonde" go into a supermarket in Queensway, and had abducted her on her return to her car. He described the Mini in great detail, even down to the "FOR SALE" sign taped to the back window. Lashley went on to describe how he had forced her into the passenger seat after threatening her with a butchers knife, and mentioned how he had cut the roof of the car to demonstrate its sharpness. They then drove to a dark place in the Ladbroke Grove area of London, where he had ripped her clothes to shreds with the knife and brutally raped her. He told Reece that she had struggled and fought, but was no match for his physical power, and that he had taken great pleasure in forcing her to say how much she was enjoying the assault. The most chilling aspect of the conversation was yet to come, however. Lashley demonstrated to Reece how he had then killed the girl – by holding the back of her neck with his left hand, whilst pushing his giant fist into her throat. She had died after mere seconds. Lashley then re-dressed the body in the clothing found in the red bag, strapped the body into the passenger seat, driven out into the country and dumped the body in some bushes. He had leisurely eaten peanuts and smoked whilst driving. He then described driving back and leaving the car, then taking the groceries to eat but discarding them in gardens around the Elgin Crescent area.
Taking this into account with Lashley's comments about his plans upon release, Reece eventually decided to confide in a prison officer about what he had heard. He claimed it was for the safety of white women in the country, and that as evil a monster as Lashley should never be released from custody. When police received this report it was like electricity. Reece had described details that were unknown to the general public, and the pathologists report tallied exactly with Lashley's account of the killing. It also explained why Janie's body was dressed in her spare clothes. The files on the "Beast of Shepherd's Bush" rapes were re-opened and the victims re-interviewed, leaving police more convinced than ever that Lashley was the killer. The similarity and pattern on all the attacks, as well as the Chesterton Street attack, were like a carbon copy of the offender profile of Janie's killer. All were young white women, all attacked in cars and all were robbed and threatened with broken necks if they screamed. Lashley had been tracked down at the time by his car number plates, and had been separately identified at identification parades by each victim individually.
By November 1988, police were convinced they had enough evidence to prosecute Lashley and had decided to wait for his release in February 1989. But in January 1989, news was leaked to the press that the Janie Shepherd case was being re-opened, and that the prime suspect – a vicious rapist and attempted murderer – was due for imminent release from prison. Lashley had read this in the papers, and was convinced that Reece had "grassed".  At 7:00am on Monday 7th February, Lashley walked towards the prison gates on the day of his release from the sentence for the Chesterton Street attack. He must have been resigned to his fate, for he said to a prison officer:
"The police are waiting for me, aren't they?"
He was right. Detectives met him outside the gates and arrested him and charged him with the murder of Janie Shepherd. He had been free all of 30 seconds before he was on his way to St Albans police station. The arrest was widespread in the press, and by the time Lashley appeared for remand at St Albans Magistrate's court on 10th February, police had gleaned further vital evidence against him. Prison officers at Parkhurst prison came forward to say that another prisoner, Robert Hodgson, had come forward to allege that Lashley had made a similar confession to him whilst both were in Wakefield Prison in 1981. Committal proceedings began at St Albans Magistrates Court in May 1981, and both Reece and Hodgson gave evidence as to what Lashley had told them. As a result of reporting restrictions being lifted, a third prisoner was to come forward stating that Lashley had confessed to the crime. He was committed for trial for Janie's murder on 02 June 1989.
Lashley's trial for the murder of Janie Shepherd began on Tuesday 7th February 1990 at St Alban's Crown Court. He pleaded "not guilty" to the murder, and the trial was to last for three weeks. Chief witness for the prosecution was Daniel Reece, who gave an impressive and comprehensive account of the confession Lashley had told him. It was so detailed and authentic that it contained several details that had not been made public, but were known to investigating officers, and left a strong impression on the jury. There were other minor points of evidence, albeit circumstantial, against Lashley. Chewing gum packets of a type he used were found in the Mini, as well as branded cigarette butts that he smoked. Peanut shells matching those found in Janie Shepherd's Mini had been found in Lashley's Vauxhall Victor car. He was very familiar with Nomansland Common, having taken his stepson to play there on many occasions in the 1960's. DNA technology had come so far by 1990 that semen groups could now be identified, and the semen found in the Mini tested positive for an "A" secretor. David Lashley was an "A" secretor.
Lashley strongly denied his guilt, but could not explain the circumstantial evidence and was no match for how powerful a witness Daniel Reece was. All he could do was offer the same alibi that he had given when first arrested and questioned about Janie's murder in 1977. This was again corroborated by the woman he had visited Leicester with, and Lashley's aunt. But ultimately, it was to do no good. On Monday 19th March 1990, a jury who had listened for three weeks to the appalling catalogue of evidence concerning Janie's rape and murder took just two and a quarter hours to unanimously find David Lashley guilty of Janie Shepherd's murder. The public gallery erupted in cheers, and Mr Justice Alliott had to call for order in the court to pass sentence. Lashley said nothing, but glared with unbridled hate at the judge, who sentenced Lashley to life imprisonment. Mr Justice Alliott chose his summing up carefully when passing sentence:
"The decision is such that whoever is responsible must have the utmost, careful regard before you are ever allowed your liberty again. In my view, you are such an appalling, dangerous man that the real issue is whether the authorities can ever allow you your liberty in your natural lifetime"
He was then escorted from the dock to begin his life sentence.
Throughout Lashley's trial, Janie's mother Angela Shepherd had bravely attended each day, and had even given evidence for the prosecution. Each day, she wore the "Woodstock" charm on a chain that had been found on Janie's body, and was dignified and left triumphant that justice had finally been served for Janie. It is fitting to conclude with the words that Angela gave to reporters covering the trial after the guilty verdict and sentencing had been passed:
"Justice has been done. We have always prayed that this would happen. I'd do anything to spare other parents the traumas we have experienced. Anyone with a daughter can feel safer now".
Lashley has never shown any signs of remorse, and continues to serve his life sentence to this day.
The True Crime Enthusiast